Monarch 6 Seater Outdoor Modular Lounge Setting
White/ SUNBRELLA Cast Slate Fabric
SKU
monarch-sunbrella-6-seater-mod-white-castslate
Monarch outdoor aluminium modular  lounge with Sunbrella high performance outdoor fabric.
Monarch with Sunbrella fabric features a simplistic, elegant design. Quality powder coated welded aluminium frames with text mesh base for greater seating comfort. Lightweight for ease of manoeuvrability and low maintenance.  Sunbrella fabric gives you peace of mind to leave the cushions outdoors as the fabric is water, mildew and fade resistant. It is globally recognised as simply the best performing outdoor fabric you can get.
Read more
This product includes
1 x Monarch Left  Arm love seat with Sunbrella base and back cushions D 79 x L 137 x  H 69cm $1199.00
1x Monarch Right Arm love seat with  Sunbrella base and back cushionsD 79 x L 137 x  H 69cm $1199.00
1x Monarch Corner sofa with  Sunbrella base and back cushions D 79 x L 79 x H 69cm $749.00
1 x Monarch Centre sofa with Sunbrella base and back cushions: D 79 x L 66 x H 69cm $599.00
1 x Monarch Coffee Table 130 x 70cm $549.00
RRP: $4295.00
Sunbrella cushions are water, mildew and fade resistant. Simply the best outdoor performance fabric, with a 5 Year Warranty.


Monarch 6 Seater Aluminium Outdoor Modular  Lounge Setting with Sunbrella high performance fabric 
Brand: Royalle
Material:  'Tiger' Powder Coated Aluminium frame with Textilene Mesh Base 
Frame Colour:  White 
Cushion Material: Sunbrella high performance outdoor fabric 
Cushion Colour:  Sunbrella Cast Slate 
Warranty:
5 year warranty on  frames  & Sunbrella Fabric 
1 year warranty on  Textilene base 
Please Note:
any accessories or accent cushions in photographs are not included
Monarch range may not be on display in all Outdoor Elegance showrooms,  please contact your local showroom to enquire if this item is on display.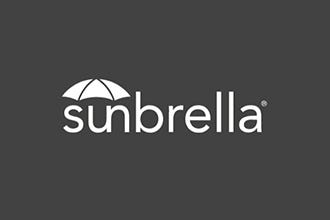 Sunbrella High Performance Fabric
Sunbrella high performance outdoor fabric gives you peace of mind to leave the cushions outdoors as the fabric is water, mildew and fade resistant. It is globally recognised as simply the best performing outdoor fabric you can get with a 5 year warranty. For more information on how to care for Sunbrella fabric click here.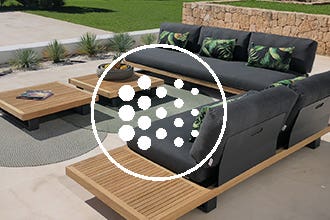 UV & Fade Resistant
Traditional dyeing processes only leave colour on the surface of fiber, so they easily fade. Sunbrella fibers are saturated to the core with highly UV-stable pigments, making Sunbrella fabrics resistant to fading and the degrading effects of sunlight.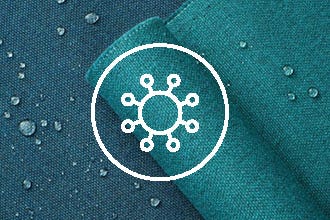 Mold and Mildew Resistant
All Sunbrella fabrics are engineered to resist mold and mildew. Should exposure to dirt and debris cause mold and mildew to occur, all Sunbrella fabrics can be easily and safely cleaned with bleach.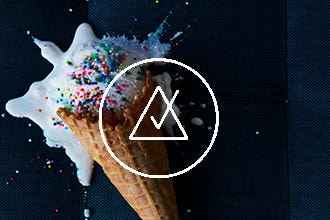 Stain Resistance & Bleach Cleanable
Because colour goes to the core of Sunbrella fibers, Sunbrella fabrics can be cleaned with solvents such as bleach without losing colour. Trust Sunbrella to stand up to lifes toughest moment with powerful stain resistance, Sunbrella outdoor fabrics provide ultimate cleanability with easy bleach-cleanable. Learn More>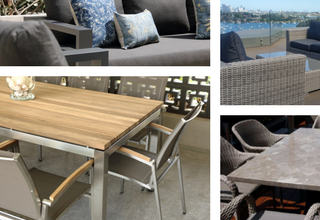 Outdoor Elegance selects materials and designs for our product range that allow our furniture to be used in the outdoors. Like everything there are varying degrees of performance to be expected from your setting depending on the specific materials used and the environment they are used in.
Obviously a setting kept in a covered area is going to have a longer lifespan than say one kept uncovered with full exposure to the elements.
These factors should be taken into account when selecting your setting and how you go about protecting it.
Click here for our warranty and returns policies
Delivery Costs
Enter your postcode in checkout for a shipping rate
We have shipping rates in place for many locations, refer to the tables below for a guide. When your postcode is entered in our online checkout the shipping rate will appear. If a rate does not appear your postcode is not included in our shipping calculator. Terms and conditions apply
To proceed you can contact your nearest store click here for a quote and utilise our Freight by Arrangement option in checkout. Please ensure when using this option you have a quote from an authorised Outdoor Elegance representative or your order will be deemed invalid.
Please note that on occasion some items do require to be shipped in from interstate to complete the order and this can delay the delivery times. Once order is placed you will be notified of expected delivery time.
Below is a guide to shipping rates for furniture items. Some accessories, smokers and heaters have lower shipping costs. Please enter your postcode in checkout for these items for confirmation.
If a courier price is not provided once entering your postcode in checkout please contact us for instructions
NSW & ACT

$99

$199

$250

$299

$350

Sydney Metro

Canberra

Blue Mountains

Central Coast

Cessnock

Newcastle

Wollongong

Kiama

Morriset

Nelson Bay

Hunter Valley

Queanbeyan

Wyong

Albury

Bathurst

Batemans Bay

Berry

Bowral

Braxton

Goulburn

Singleton

Scone

Tamworth

Lithgow

Muswellbrook

Wagga Wagga

Yass

Armidale

Coffs Harbour

Cooma

Dubbo

Forster

Griffith

Gunnedah

Laurieton

Nambucca Heads

Orange

Port Macquarie

Sawtell

Taree

Ulladulla

West Wyalong

Forbes

Grafton

Glenn Innis

Inverell

Narrabri

Parkes

Bega

Condobolin

Jundabyne

Morree

Narooma
VIC & SA

$99

$199

$250

$299

$350

Melbourne Metro

Geelong

Ballarat

Bendigo

Healesvile

Warragul

Adelaide Metro

Bairnsdale

Echuca

Horsham

Lakes Entrance

Mildura

Moe

Sale

Stawell

Shepparton

Traralgon

Warnambool

Wangaratta

Wadonga
QLD

$99

$199

$250

$299

$350

Brisbane

Gold Coast

Sunshine Coast
WESTERN AUSTRALIA

$99

$199

$250

$299

$350

Perth

Bunburry

Margaret River

Busselton

Lancelin

Geraldton

Albany
Other Areas
As noted above if your location is not listed in the guide and a shipping price is not generated when you enter your postcode please contact us and utilise our Freight by Arrangement option in the checkout. Please note this options is only for use with a quote provided by an authorised Outdoor Elegance representative. Any other use will render the order invalid.
Smokers
Smokers are available for delivery into Metro areas of Melbourne, Perth, Brisbane, Central Coast, Newcastle, Gold Coast, Sunshine Coast. Shipping cost is based on delivery to these locations. Any orders placed for other locations including regional areas will have shipping rates reviewed and revised if necessary. Customer may cancel the order for a full refund if revised shipping rate is not suitable. Outdoor Elegance reserves the right to cancel the order at any time.
We are contractually unable to supply into Australian Capital Territory and surrounds. Please refer to an alternate dealer in the area for stock. Any orders placed online will be cancelled and refunded.
Sydney- Wollongong Smokers – Pick up only (from Seven Hills Mon-Fri) Delivery NOT available.
Organising your Delivery
Following checkout we will contact you to discuss delivery details. We will need to know a little about the site access, parking and work out a time that suits you.
Please note shipping times can vary from 1 day to around two weeks for regional deliveries depending on when our next run to your area is and if we have to transfer stock interstate to fulfil your order. Delivery price includes delivery to premises only.
Sydney, Melbourne, Brisbane, Perth, Sunshine Coast, Central Coast and Newcastle Deliveries
Your items will be delivered by our experienced team members. They can offer advice on care and maintenance of your product and assist with your next purchase.
They are also available to assemble your goods and remove all rubbish for an extra fee. please advise if this is required when booking your delivery.


Pick Ups
You are welcome to collect your purchase in one of our stores or make an appointment to pick up at our main warehouse in Seven Hills, Sydney. Please select this option in checkout and we will contact you to arrange pick up date. Please Note: Smokers & Grills, Smoker Accessories can ONLY be picked up from our Melbourne, Newcastle,Brisbane and Perth depots.

Please note: every effort is made to provide detailed and accurate information online on every item. As mistakes can happen we reserve the right to cancel your order and refund your purchase. This includes but is not limited to pricing, specifications and inclusions discrepancies as well as identifying items only available in local area that are not available for shipping.
Not every item is available in every store or available for delivery out of area. We reserve the right to decline new orders or cancel and refund placed orders for any product.
You may also like
Pre Order

This product features Sunbrella high performance outdoor fabric.

Pre Order

This product features Sunbrella high performance outdoor fabric.

More Colours Available