Outdoor Elegance Canberra
. Wollongong Street
Fyshwick
Trading Hours - COVID UPDATE: STORE BACK OPEN from 22nd October
Monday - Friday 10am -4pm
Saturday- Sunday 10am - 4pm
HOLIDAY Trading Hours-
Christmas Eve 24/12/21 10am - 3pm
Christmas Day 25/12/21 - CLOSED
Boxing Day 26/12/21 - CLOSED
Monday 27/12/21 - 10am - 4pm
Tuesday 28/12/21 - 10am - 4pm
New Years Eve 31/12/21 - 10am - 3pm
New Years Day 1/1/22 - CLOSED
COVID UPDATE:
Canberra showroom back OPEN from Friday the 22nd October. 10am to 4pm 7 days a week
for the safety of our team and customers we are asking that if you plan to visit either our store or warehouse locations that you be double vaxed.
Face masks Required
1 person per 4sq m p
QR code checking
hand sanitizing required
ACT Health regulations apply
Outdoor Furniture Showroom Canberra - Open 7 Days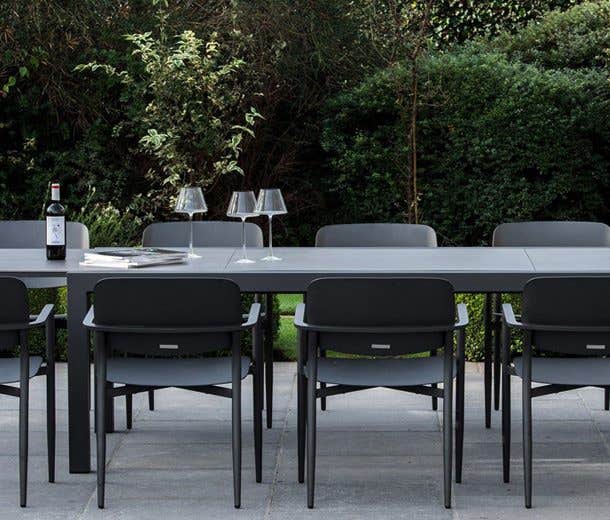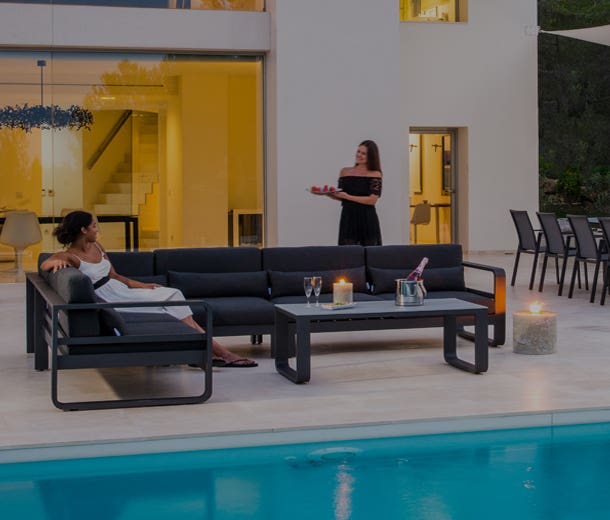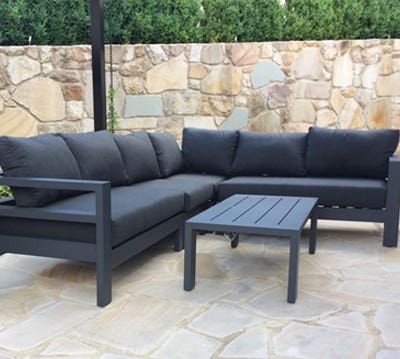 Aluminium Outdoor Lounges
Ideal for Canberra's climate, aluminium outdoor furniture is the ultimate low maintenance option.
SHOP NOW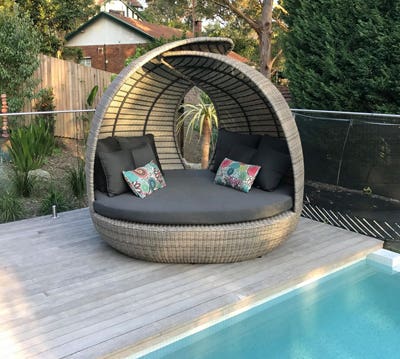 Outdoor Daybeds
Bring resort style living into your backyard with an outdoor daybed. Try out in our Canberra showroom.
SHOP NOW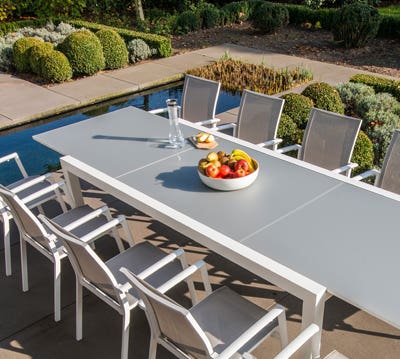 Ceramic Outdoor Dining
The latest in outdoor furniture technology, ceramic outdoor tables. Perfect for any environment.
SHOP NOW
Outdoor Furniture Canberra
Canberra is home to one of the Outdoor Elegance group's most exciting showroom displays. Located in Fyshwick, Outdoor Elegance is one part of the Burning Log Outdoor Indoor complex which has been a mainstay of Canberra retail for over 30 years. Within the outdoor furniture department, the site features an extensive selection of outdoor lounges, outdoor dining settings, daybeds, umbrellas and more. Also under the same roof, you will find our specialist Weber store as well as an extensive display of indoor and outdoor heating. To find out more about Burning Log's other products including heating and Weber collections visit burninglog.com.au
Throughout the expansive indoor and outdoor displays on site, you will find the latest in outdoor furniture technology and design featuring premium materials such as teak, ceramic, lava stone, marble, aluminium and resin wicker. All settings we display in our Canberra showroom have been curated from the best sources in the world to suit the local market. Outdoor furniture that will perform in the diverse weather conditions that we experience in and around Canberra and that will look great and stay comfortable long after we have installed it.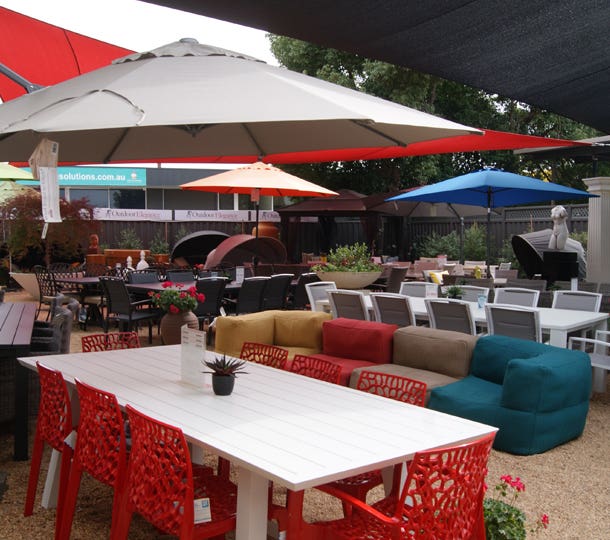 A few doors down is the Burning Log warehouse where you can collect your goods or we offer professional delivery and installation options. We run daily deliveries to Australian Capital Territory and Queanbeyan with visits to nearby centres such as Yass, Cooma, Goulburn, right across the Riverina and the New South Wales South Coast. For those North, we have Outdoor Elegance showrooms in Sydney, Erina and Newcastle to help serve New South Wales, Melbourne to service Victoria and Brisbane and the Sunshine Coast for the Queenslanders.
We offer almost our entire range of lounge pieces, outdoor tables and outdoor chairs individually and that allows you to mix and match to find a combination that is perfect for your style, your budget and your outdoor space. Come in and let our team help you to create your dream outdoor setting.
Discover an exciting range of outdoor furniture in Canberra
Your backyard should be as tailored to your individual needs as the indoor areas of your property. At Outdoor Elegance, we believe in creating beautiful outdoor spaces that flow seamlessly into the rest of your home. This gives you a much more flexible lifestyle, encouraging you to spend more time outdoors in a haven of peace and calm.
Our range of outdoor furniture in Canberra is the most comprehensive in the entire region. Whether you want to enjoy al fresco dining in style or relax in a beautiful outdoor lounge designed to suit your needs and express your personal tastes, we can provide you with exactly what you're looking for.
Our collection incorporates classic and contemporary designs. We know you'll be able to find the perfect outdoor furniture to coordinate with the style of your property and to add an extra wow factor! Whether you're enjoying some "me time" on a summer evening or spending a social weekend with family and friends, you'll enjoy our outdoor furniture for many years into the future.
Best sellers
20% off

Pre Order

More Colours Available

Pre Order

More Colours Available

Pre Order
New arrivals