The "Aspen" outdoor lounge collection has become one of our most popular outdoor lounge over the last three years. Contemporary styling, quality materials and luxurious cushions you can sink into make it the go-to lounge for so many of our customers. This is what sets the Aspen collection apart.
1. The Frame material
The strength and longevity of a product are built on the foundation of quality materials. With the frame that means selecting a high grade aluminium. Aluminium is an ideal material for outdoor furniture in Australia. It won't rust as unprotected steel does , it wont rot, split or crack like some cheap timber models can. It is low maintenance and offers some nice clean lines perfect for just about any outdoor space.
As well as a heavy gauge aluminium we have additional reinforcing channels employed throughout the frame. This provides unparalleled strength especially important with the long spans on two and three seater models.

2. The construction
The Aspen like all of our aluminium lounges features a welded frame. Using a "flat-pack" design will make a lounge cheaper but it comes with a compromise it weakens the product. Welding is an important construction element that ensures your lounge will stay solid for years to come. It also eliminates unsightly joins in what are cleans lines of aluminium frame furniture and of course the added bonus is… there is nothing to put together
The base of the lounge is also an important component in it's construction. Again we use aluminium slats, welded on to the main frame to produce a solid base. This has a much greater lifespan than a cheaper strap or sling style base and it wont sag or split. When comparing models always lift up the cushions and check out what is underneath.
3. The finish
Powder coating is the best way to colour metal. The aluminium is coated with a dry powder and baked to produce a uniformly coloured, hardened surface. We have also opted for a better quality powder, using "Tiger" powder coat. We have used now on thousands of furniture pieces and found it far more resistant to scuffing and scratching than other brands.It will also have a higher resistance to UV degredation and look good for a lot longer in an exposed space.
4. Sunbrella
A top performing cushion fabric is particularly important on a lounge like the Aspen where you will get years of use from the rest of the components. Like the frame you want the other exposed elements to perform and in this case it is the fabric. Sunbrella, a world renowned outdoor fabric is used extensively on umbrellas, awnings and in the marine industry certainly delivers on this. We have been using Sunbrella outdoor performance fabrics on our product for ten years now having sold over 100,000 cushions covered in Sunbrella.
This is what makes it so good;
Sunbrella has extraordinary fade resistance and colour fastnesses. This is thanks to the solution dyed method of colouring the fabric which embeds the colour pigment in the fibre. Unlike other dyed fabrics it is coloured to the core.
Thanks to its properties it is much easier to clean than other outdoor fabrics like spun polyester and Olefin. So much so that it can be cleaned while still opn the lounge, there no need to remove the covers (though they are removable).
Sunbrella comes with water repellent coating.
Sunbrella is inherently more mould and mildew resistant than other standard fabrics.
Many heavily synthetic based outdoor fabrics can be rough and scratchy. Sunbrella features a softer hand-feel making it very comfortable. On some of our Aspen models we go one step further and use a Sunbrella textile made in France that has an even softer feel to bring another level of opulence to your outdoor room. To select one of these, look out for the Sooty and Grey Chine fabric colours.

5. Textaline base
Our attention to detail on the cushion covers doesn't stop at the Sunbrella fabric. Whilst water repellent, an extended period of rain will result in water penetrating the cushion. This is totally normal as the cushion cover needs to be somewhat breathable to ensure the foam inside is not damaged. To facilitate easy drainage we have a durable PVC mesh panel on the base of all cushions. This ensures that any moisture will work through the foam and always allows the cushion to breathe.
6. The cushions
Selecting a base cushion for an outdoor lounge is a complicated process, especially on a premium product like the Aspen where we do not want to compromise. We are looking for something that will hold it's form with extended use but remain comfortable. Over the years we have developed the perfect construction by combining a high quality medium density, quick drying foam with a high loft thermofill wrap to provide extra cushioning. Essentially we create a pillow-top cushion that maintains shape and support with a soft topping.
7. The weight
A guide to the value of the Aspen collection can be found in the weight of it. With the thicker aluminium, internal reinforcing and quality cushions e the lounge has significant volume of materials. If you are shopping around pick up one end of the lounge and compare to others and you can tell immediately that this is a piece of furniture with much greater substance.
For instance, a typical aluminium frame two-seater lounge you might find available in Australia will weigh from around 13-19kg. The Aspen two seater weighs 30kg. Put simply the Aspen has up to and in some cases even more than double the substance in weight of materials than other aluminium lounges.
This extra mass also offers those in high wind areas like apartment balconies some reassurance there is enough weight in the product to keep it secure compared to many other options.
8. The options
The Aspen is available in either a white frame with grey cushions or a tone on tone charcoal. We have found no matter what your outdoor area one or both will fit in beautifully either complimenting the surroundings or as a contrast. White is popular in coastal areas, to match white trims around the home, with lighter coloured paving and also to lighten up a darker area. Charcaoal goes with just about anything but we find it most popular with use on a merbau deck or darker paving.
To add further interest or to pick up on other elements around the home and garden we now have models with teak or ceramic accents.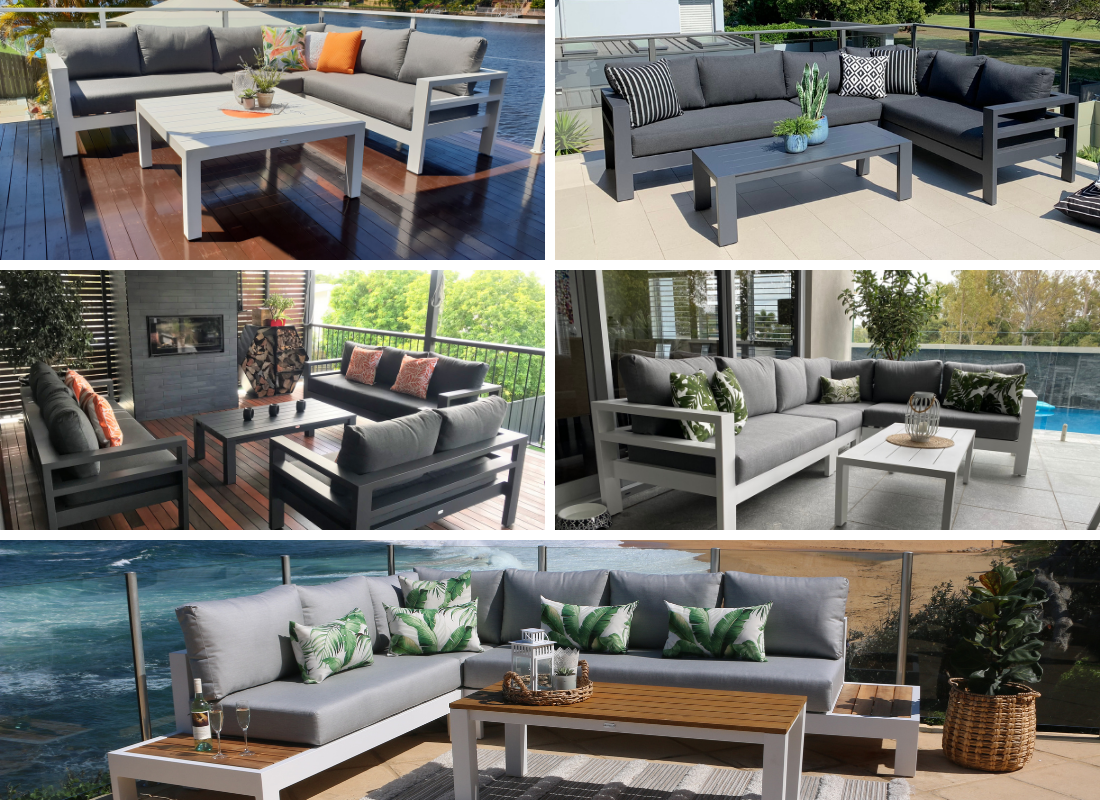 With the growing popularity of the Aspen range we have continued building on the variety of collection peices. With the modular format you can tailor a package specifically to the size and style of your outdoor area and your needs. With over 30 pieces available in two colours there are hundreds if not thousands of possible combinations.
Create corner lounges, single, two or three seater sofas or a combination. Add coffee tables and accessory pieces to ensure your set is as practical as it is comfortable.
9. Expand with matching pieces
We have an ever expanding range of dining and bar sets, daybeds, sunloungers side tables and more that can compliment your Aspen lounge. Select pieces that match the frame colour, cushion colour and the accents like this teak dining set that fits perfectly with the Aspen's teak accents.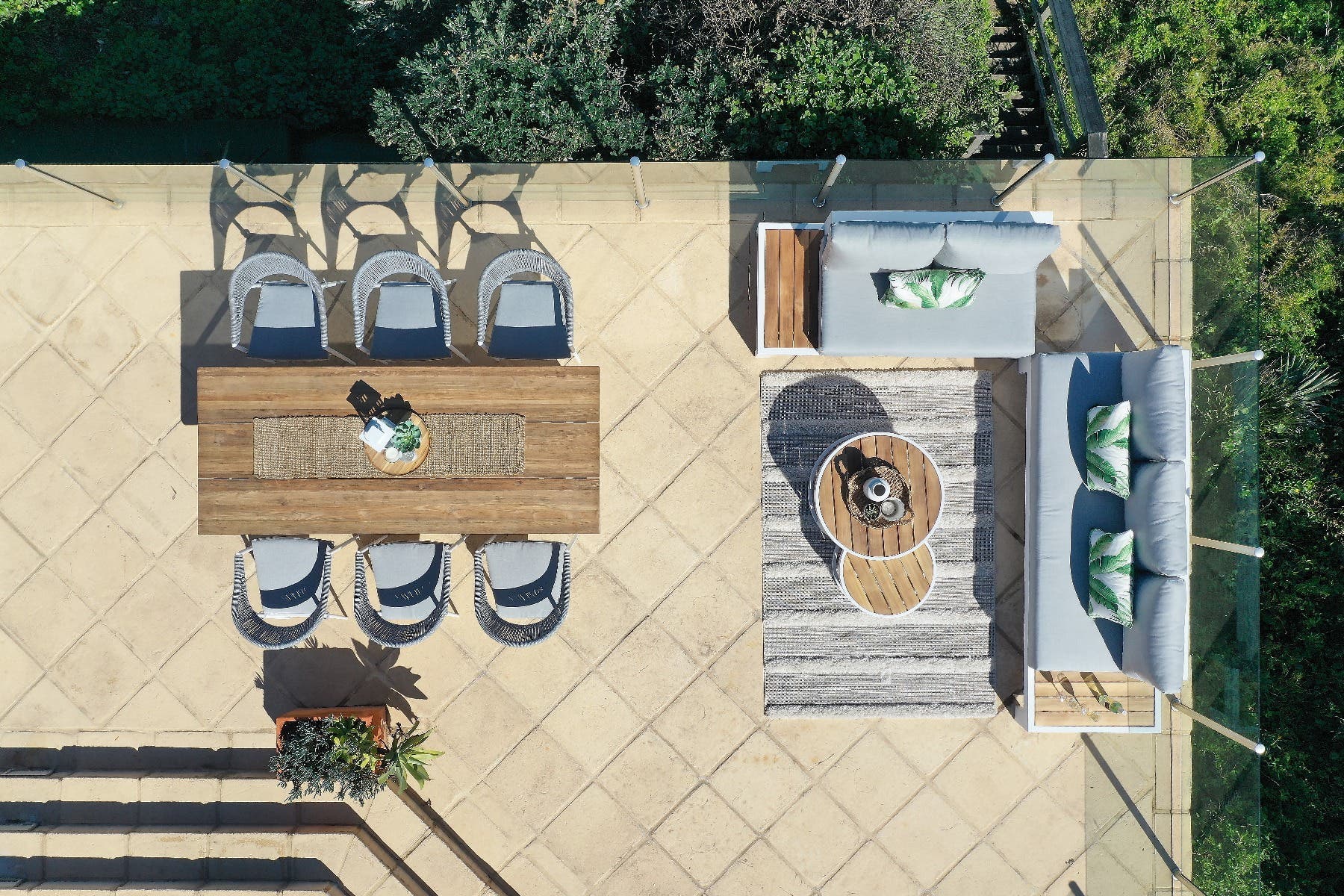 10. Maintenance
Keeping anything outdoors can result in exposure to dust, rain, pets and wildlife and even salt spray in coastal environments. Regardless of what you have outside it will require some level of maintenance. Fortunately as lounges go it wont get much easier than the Aspen.
Wipe the frame down with mild soapy water as required. To provide further protection to your powder coating in a full sun location we recommend a non-abrasive car wax.
With the cushions, clean the Sunbrella fabric without removing the covers. For the most part the cushions will require little more than a bit of mild soapy water and perhaps a soft brush. However if you happen to experience a tougher stain Sunbrella has a great cleaning guide with a handy list of common challenges you may face like wine, coffee and sunscreen and how to tackle them.
To further protect your lounge and reduce cleaning we rcommend covering when not in use. We sell weather covers for the Aspen in our online store