Your backyard shouldn't be an after-thought. Australia's mild climate and long summers create the ideal conditions for an outdoor entertaining space that takes full advantage of your property, and we offer a variety of outdoor furniture that keeps you comfortable as it complements your tropical landscaping. Teak is one of our most popular options, because this tropical timber has built-in character and plenty of rugged durability.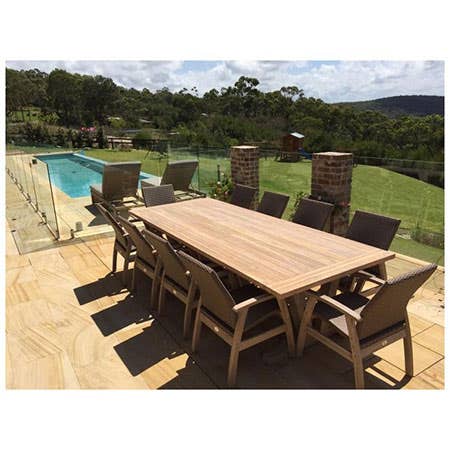 Make the outdoors great again by transforming your Sydney, Central Coast, Newcastle or Melbourne backyard into a relaxing oasis with Outdoor Elegance. As you curate your seating and dining options, keep teak outdoor dining furniture in mind. It will allow you to do the following as you impress your guests and neighbours, expand your usable living space and make your property more inviting and inspiring.
Embrace the Green Lifestyle Outdoors
Your grass, bushes, trees and other backyard foliage are full of lush, relaxing shades of green. When you surround yourself with natural textures and colours, you relieve stress and get closer to nature. And what could complement green leaves better than natural wood? Teak outdoor settings come in a variety of different textures, shades and styles, but they all have one thing in common: real teak timber that won't interrupt the natural flow of your backyard aesthetics.
Of course, green isn't just the colour to complement. It's also a benefit of our recycled teak furniture. When you invest in outdoor chairs and surfaces that are composed of recycled teak timber, you lower your carbon footprint and give back to the environment. Recycled outdoor furniture already looks rugged when it's brand new, and your outdoor entertaining area will look less manufactured, more organic and less destructive as a result.
Let Nature Complement Your Furniture
Teak furniture is distinctive because it's durable and designed to change over time. Unlike outdoor furniture that requires constant maintenance to resist the effects of sun, rain and other outdoor elements, your teak furniture will withstand harsh weather and evolve to take on new colours and patterns over time.
Some Aussie homeowners prefer the eclectic look of different wood grains and colours. However, if you want your chairs, table and other teak furniture to weather at the same rate, purchase a complete teak dining setting. Make sure you collect all your complementary furniture, such as daybeds, benches and bar stools, simultaneously too. As your teak furniture ages, your whole backyard will evolve in unison.
To get an up-close look at some of the best outdoor furniture Melbourne has to offer, visit our Braeside show room today. If you live closer to Sydney, come to Terrey Hills to browse our collection of teak tables, chairs, lounges and other eye-catching garden furniture, or our Central Coast showroom at Erina. Of course, whether or not you visit us in person, you may also purchase your teak outdoor furniture online. Our online inventory is easy to browse, and our shipping and delivery options are convenient and affordable so that you can start living the teak lifestyle as soon as possible.